Recompensas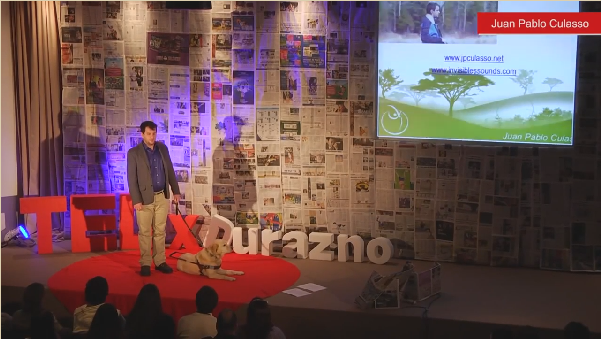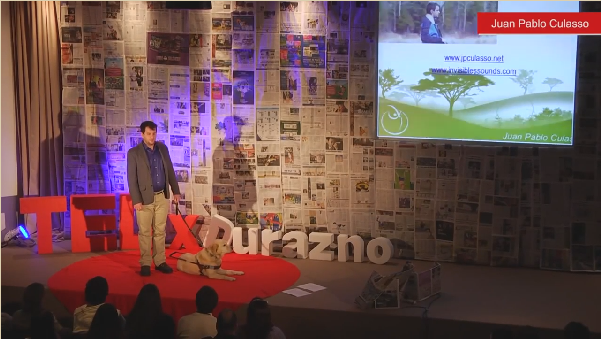 COP$ 1,200
Nivel 7 / Level 7
Super conferencia de 80 minutos en que por medio de los sonidos te cuento mi aventura como sonidista de naturaleza./ A super 80-minute conference in which I tell you about my adventure as a nature sound engineer through sounds.
COP$ 500
Nivel 6 / Level 6
Un diseño exclusivo de un paisaje sonoro de 30 minutos de duración + destaque web / An exclusive design of a 30-minute soundscape + web highlight
COP$ 100
Nivel 5 / Level 5
Dos grabaciones inéditas + cuatro obras a tu elección + destaque web / Two unpublished recordings + four works of your choice + web highlight
Historia
🇪🇸 Hola, soy Juan Pablo Culasso, sonidista por vocación, ciego de nacimiento.
Soy un apasionado por el sonido. Los sonidos son como las fotos para mi. Hace más de 15 años que grabo sonidos de la naturaleza con el objetivo de conservar nuestro patrimonio sonoro.
Pero ¿sabías que en Latinoamérica las personas como yo, ciegas, somos discriminadas y no podemos acceder a la educación que amamos, ni a la profesión que soñamos?
Por eso, yo tenía dos opciones: o bajar los brazos, o seguir adelante como fuera. Mi camino fue ser autodidacta.
En 2014 gané un premio National Geographic que me permitió dar un gran paso en mi carrera. Con este premio pude conseguir mis equipos profesionales de grabación.
Conoce más sobre mi y mi carrera en mi pagina web www.sonidosinvisibles.com.uy
Ahora busco tu apoyo para dar otro gran paso, y llegar más lejos.
La computadora que uso para editar y trabajar en mis proyectos ya no funciona tan bien. Yo uso tecnologías que me permitan editar y trabajar mejor, y además que me permitan ser autónomo e independiente.
Sin embargo, estas tecnologías se actualizan año tras año, y requieren más procesador y más memoria.
Para un ciego, las computadoras que nos permiten trabajar de forma profesional son las Mac, primero porque su sistema operativo es completamente accesible, y segundo porque las tecnologías de sonido profesionales son compatibles y accesibles únicamente en el sistema operativo Os X.
Este paso tiene dos objetivos:
1. Adquirir una nueva computadora iMac Pro.
https://www.bhphotovideo.com/c/product/1480147-REG/apple_zour_18c_128_4tb_64x_imac_pro_18c_3_2ghz.html
2. Adquirir una nueva superficie de control Avid S3, para trabajar con Protools. La que tengo actualmente es una versión de 2014 que ya no recibe más soporte del fabricante. En breve ya no funcionará más. La superficie de control para mi, es como tocar el sonido con mis manos. Sin ella no podría editar mi trabajo de manera profesional.
https://www.bhphotovideo.com/c/product/1086796-REG/avid_99006539903_pro_tools_s3_desktop.html
Yo se, el valor es alto. Pero además de la computadora y superficie de control, están incluídos todos los gastos de impuestos que tendré que pagar.

Cuento con tu apoyo. Diseñé algunas recompensas que te van a encantar.
🇬🇧

Hello, I am a sound designer by vocation, blind since birth.
I am passionate about sound. Sounds are like photos to me.
For more than 15 years I have been recording sounds from nature with the aim of preserving our sound heritage.
But did you know that in Latin America, we blind people are discriminated against and cannot access the education we love, nor the profession we dream of?
That is why I had two options: to give up, or to go on as far as possible. In my path, I had to become a self-educated person.
In 2014 I won a National Geographic Award and was able to take a big step in my career. With this award I was able to get my professional recording equipment.
Know more about me and my career, visit my website www.sonidosinvisibles.com.uy
Now I am looking for your support to take another big step and go further.
The computer I use to edit and work on my projects no longer works as well. I use technologies that allow me to edit and work better, and that allow me to be autonomous and independent.
However, these technologies are updated year after year, and they require more computer processing and more memory.
For a blind person, the computers that allow us to work professionally are the Macs, first because their operating system is completely accessible, and second because professional sound technologies are compatible and accessible only on the Os X operating system.
This step has two objectives:
1. Buy a new iMac Pro computer.
https://www.bhphotovideo.com/c/product/1480147-REG/apple_zour_18c_128_4tb_64x_imac_pro_18c_3_2ghz.html
2. Buy a new Avid S3 control surface, to work with Protools. The one I currently have is a 2014 version that no longer receives support from the manufacturer. Soon it will not work any longer. The control surface for me, is like touching the sound with my hands. Without it, I could not edit my work professionally.
https://www.bhphotovideo.com/c/product/1086796-REG/avid_99006539903_pro_tools_s3_desktop.html
I know, the value is high. But in addition to the computer and control surface, all the tax expenses that I will have to pay are included.
I count on your support. I designed some rewards that I know you will love!
Progreso
Feb 24, 2021
Estoy muy feliz. Tener a 95 de ustedes apoyando mi trabajo y que en 35 días hayamos llegado al 28% de la meta!! Ustedes son los mejores del mundo! Desde el fondo de mi corazón, mi mayor gratitud. Apóyenme a llegar más lejos. Compartan y compartan esta campaña para llegar a la meta más rápido que un colibrí!!
Feb 24, 2021
I'm very happy. To have 95 of you supporting my work and that in 35 days we have reached 28% of the goal !! You are the best in the world! From the bottom of my heart, my greatest gratitude. Help me go further. Share and share this campaign to reach the goal faster than a hummingbird!
Vakers
| | |
| --- | --- |
| Nicolás Echeverría Cartagena | Jul 16, 2021 |
| Camila Gutiérrez | Jul 16, 2021 |
| Angelica F F Aguas | Jul 11, 2021 |
| Aporte anónimo | Jun 30, 2021 |
| Aporte anónimo | Jun 29, 2021 |
| Emerson Erazo | Jun 21, 2021 |
| Maristela Benites | Jun 20, 2021 |
| Aporte anónimo | Jun 10, 2021 |
| Osmar Borges | Jun 10, 2021 |
| CHris | Jun 2, 2021 |
| Total | 147 |